Katie is eleven years old and is in the sixth grade at Lexington Christian Academy. She enjoys tap, jazz and ballet dancing. She has been dancing competitively for three years and recently placed 9th nationally with her tap solo.
Katie also competes in song and dance, as well as vocals. She had four first place honors this year.
Katie is an honor roll student and is actively involved in the Relay for Life events.
Her ambition is to be a singer and dancer on Broadway.
Her motto in life is: If you can dream it, you can achieve it, and to always take life one tap at a time.
Meet Miss Pre-Teen Metropolitan, Haley McConnell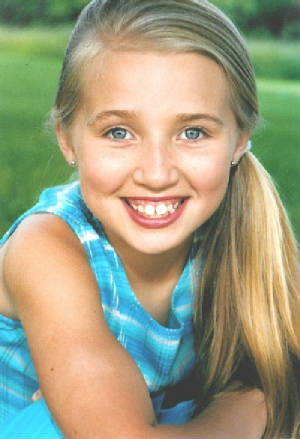 Haley is eleven years old and in the 6th grade at Nicholas County Middle School. She is a Super Honor Roll student with all A's. She is also a member of GATE which is a group for gifted and talented students.
Haley enjoys all kinds of sports, but especially cheerleading.
Haley has been taking piano and voice since she was four years old. She is also a trained model with Images Model and Talent Agency in Lexington, KY. She has participated in several auditions, and was chosen to go to LA, and to NY to represent Images at the annual IMTA Convention. Haley was also called upon to play Dakota Fanning's Double in the movie Dreamer.