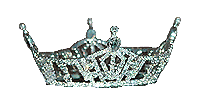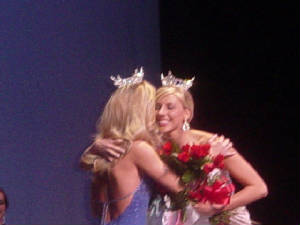 Miss Lexington, Angela Tackett, and Miss Metropolitan, Meghan Nadeau, congratulate each other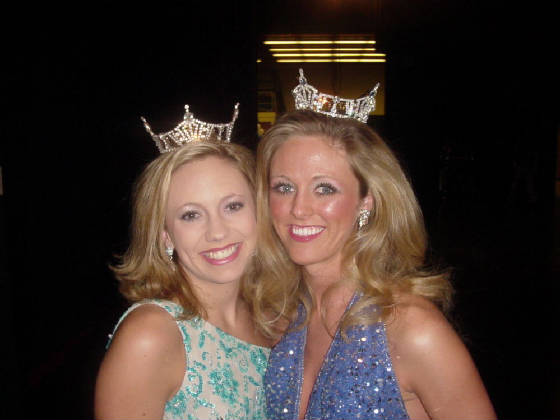 Miss Metropolitan 2004, Kristen Daugherty and Miss Metropolitan 2005, Meghan Nadeau
Miss Lexington 2005 Angela Tackett pictured backstage after her crowning
Congratulations to our new winners! Miss Lexington 2005, Angela Tackett and Miss Metropolitan 2005, Meghan Nadeau. They will represent Lexington in the 2005 Miss Kentucky Pageant to be held in Lexington in June.
Miss Lexington, Angela Tackett, is a senior at Pikeville College majoring in elementary education with eventual plans to obtain a master's degree in music education from Belmont University. Her platform is "Give the Gift of Life - Give Blood" and she sang "When a Man Loves a Woman" for talent.
Miss Metropolitan, Meghan Nadeau, is a first year medical student at the University of Kentucky College of Medicine. She graduated from the University of Mississippi with a bachelor's degree in biochemistry and biology. Meghan's platform is Pedicatric Obesity Prevention and Awareness and she sang "Big Time" for the talent competition.
1st runner-up, Jessica Horsley; 2nd runner-up, Sabina Kudmani; 3rd runner-up, Morgan White; 4th runner-up, Megan Culler.
Nonfinalist Talent and Advertising Award winner, Emily Barton; Louise Wieman Community Service Award winner, Meghan Nadeau.
Congratulations to Katie Himes, Miss Pre-Teen Lexington 2005, and Haley McConnell, Miss Pre-Teen Metropolitan 2005. They were selected by the pageant directors to represent the pageant at the 2005 Little Miss Kentucky Pageant to be held in June. You can learn more about them by clicking the "Miss Pre-Teen Lexington/Miss Pre-Teen Metropolitan 2005" link above.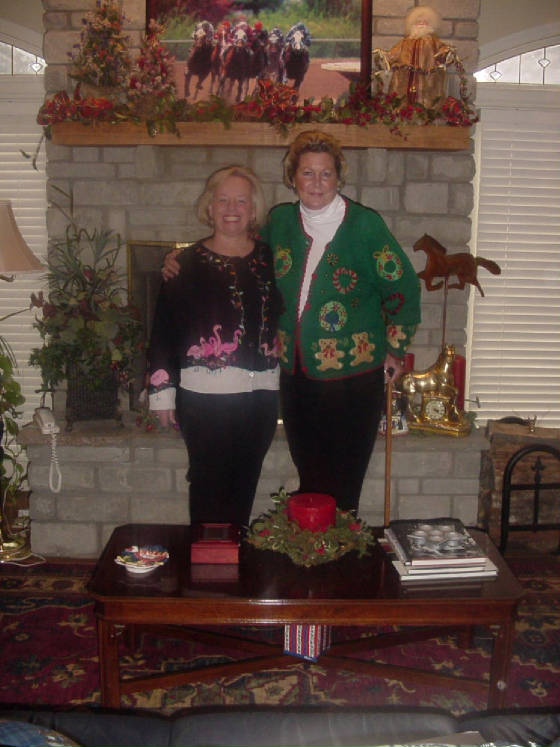 Pictured above are pageant co-chairs Melanie McCloud and Karen Carter
Pictured above are the 2005 contestants at dress rehearsal prior to the 2005 pageant.
At the 2004 Miss Kentucky Pageant the Miss Lexington/Metropolitan Pageant received two local pageant awards: Highest Cash Scholarship & Best Production.